Arthroscopic Rotator Cuff Repair
The rotator cuff has a broad insertion into a prominence of bone of the humeral head called the tuberosity. Rotator cuff tears usually occur at this site, with the tendon end detaching from its bony insertion or "footprint". Rotator cuff surgery may be necessary if your shoulder is painful or weak. The surgery can usually be performed using keyhole or arthroscopic techniques.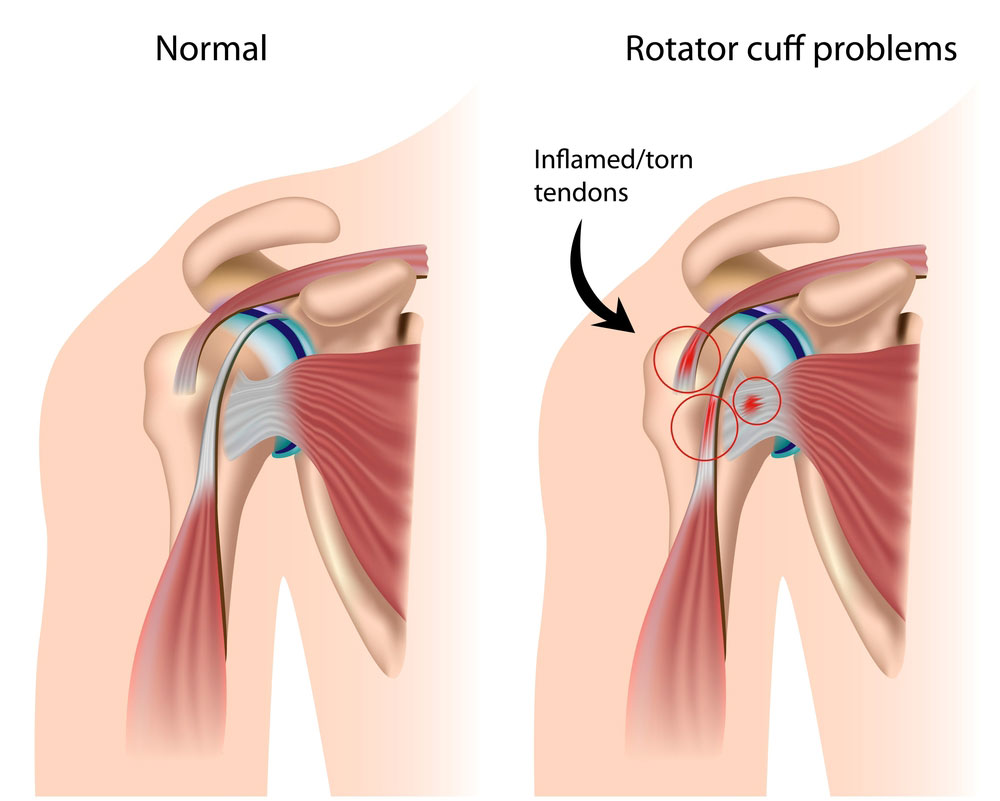 To perform an arthroscopic rotator cuff repair small incisions or portals are made around the shoulder and a thin, pencil like camera is inserted. Saline is pumped into the shoulder joint to maintain a clear view of the shoulder. Instruments are inserted via portals and the surgery is performed whist observing the camera image on a monitor.

The first step of the repair is to prepare the footprint for tendon reattachment. Scar tissue is removed from the footprint to allow the tendon to directly oppose the bone. Following preparation of the footprint, the tendon is reattached to the bone using a variable number of suture anchors.

A suture anchor is a small screw approximately 5mm in diameter. It is screwed into the bone until the whole screw lies within the bone and there is no prominence. The screw has an eyelet, through which passed strong suture material. The suture is then passed through the torn tendon, and a knot is tied to oppose the tendon to the footprint. For larger tears, a series of anchors and sutures are linked to increase the area of tendon opposed to the footprint.

In addition, an acromioplasty is usually performed. An acromioplasty involves removal of a spur of bone from the under surface of the acromion, the bone over the shoulder joint. The bone spur is removed to prevent impingement or catching of the rotator cuff during shoulder elevation. The acromioplasty is performed with a small bur, approximately 4mm in diameter. Usually, only a few millimetres of bone is removed.

The suture repair construct maintains contact between the tendon and the bone while the tendon heals. Because the tendon has been previously torn, the tendon ends are friable and it is possible the sutures can cut out of the tendon. Therefore, the shoulder is immobilised in a sling for a period of six weeks, to protect the repair. During this time, limited range of motion exercises are performed to prevent the onset of frozen shoulder. It is critical in the first six weeks that all exercises are "passive", which means the repaired tendon is not used to move the arm while it is healing.

Following six weeks of immobilisation, the tendon has healed sufficiently to allow active range of motion exercises, coordinated by a physiotherapist. Strengthening exercises are delayed for three months, to allow the rotator cuff repair to consolidate.